Our New Book!
For more than 20 million years, the common loon has been a significant symbol of the northern wilderness. To prehistoric people as well as modern-day nature watchers, it has epitomized the spirit of nature at its finest.

In Adventures With Grapenut, John M. Rockwood has captured that spirit in words and images. Through sensitive, close encounters with a family of loons during one summer, Rockwood becomes a familiar visitor to the family's circle. He records the day-to-day life of a loon pair as they raise their chick. From the time the chick is only four days old to its exit from the freshwater lake on day 125, Rockwood experiences the first summer in the life of a loon, filled with adventures ranging from near-death to the joy of first flight.

The most spectacular aspect of this work is the intimate photography. Rockwood faithfully visited the loon family throughout the summer to create incredible digital images showing the growth and progress of the chick and the attentiveness of its parents.

Unlike many boaters on lakes with loons, Rockwood was not an intruder. To the contrary, he was a welcomed acquaintance to the family circle. So much so that the chick played games with the author, including hide-and-seek that always ended with the chick popping up next to the author's kayak.

John Rockwood's account of the early life and adventures of a sooty little loon offers both adults and children rare insight into the wonderful world of nature.

George H. Harrison

Nature author/ Backyard Birder ,
editor/Birds and Blooms Magazine ,
columnist and PBS producer
Please Note:
TO ORDER OUR BOOK "ADVENTURES WITH GRAPENUT"
We are now selling our book via PayPal.
The cost is $19.99 plus $5.00 shipping & handling.
You can also order by sending a check for $24.99
($19.99 plus $5.00 shipping & handling) to:
JOHN ROCKWOOD
36 RIDGE CT.
AUBURN, NH 03032
John M. Rockwood's delightful book, Adventures with Grapenut, is a heartwarming portrait of a wild loon family that welcomes the author into their daily lives. The stunning photographs that fill the pages of this book provide an intimate chronicle of loon biology and behavior that few of us ever have the opportunity to experience. Author and nature photographer John Rockwood has captured something special with this book for nature lovers of all ages! --- Dyan deNapoli, penguin expert and author of "The Great Penguin Rescue "

Welcome to our new video book trailer - click on the link below to watch: and please post a comment on youtube telling us what you like about our "Adventures With Grapenut" book trailer!

http://www.youtube.com/watch?v=5fY47TB2r3c
Andy F., Michigan - "I just love this book. Bought our third copy from John and Sue when we met them in Derry earlier this month. The pictures and the story are just great. I am giving my third copy to a client of mine who is a 94 yo birder! The pictures look as though they were taken from 10 feet away! Just an awesome project."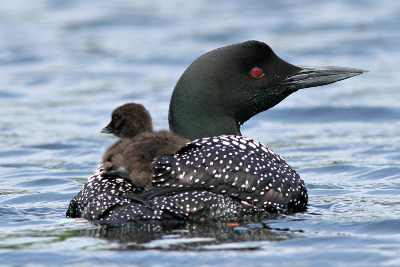 Nancy H., NH - "John, Thank you for taking your readers on delightful kayaking trips with this book to visit friends of nature!It is amazing how much insight you can gain to the life of the loon....I got so caught up that I didn't want this adventure to end! Thank you for sharing this truly remarkable experience through pictures and words!"
"A lively, engaging and very personal account of two seasons spent with a family of loons. Rockwood's stunning photography beautifully compliment his unique experience with these special symbols of natural New Hampshire. The author deftly weaves factual information into his story line and underscores the importance of respecting and pursuing the safety of these magnificient birds."

Harry Vogel, Senior Biologist & Executive Director, Loon Preservation Committee, NH

"When I was little we spent summers on the lake. My grandmother used to make stories about Loon families. I always knew that the "laugh of the loon" was the little ones playing and the parents " laughing" with them. Now I know after reading John Rockwood's endearing story of Grapenut and his loon family that it is true!"
Adults and children will enjoy this story and the incredible pictures that John is able to get with patience and great talent. This is an ageless story that can be enjoyed by all."

Edie Cummings, Director Griffin Free Public Library, Auburn, N.H.

"John Rockwood has captured, through pictures and a diary, the delightful story of Grapenut. This educational book will have you wanting to get into your own kayak, looking to find your own loon some day."

Sabrina L.B. Maltby, Teacher of the Year

"Anyone who reads this book will fall in love with Grapenut. Highly recommend for yourself or as a gift for any loon lover."

Irene Perkins, CA.

" A must read for anyone who loves loons. Educational, fun and beautiful photography. Makes a great coffee table book & gift. "

Lorraine M.

"I loved the whole book, it was educational and the pictures were wonderful. I have had several friends come up to the lake and we have taken the kayaks out looking at the loons and I'm just full of all the details about them due to reading Adventures with Grapenut! Thanks for such a great book, I'm so glad I found it."


Barbara G., Maine

"What a thoroughly heartwarming story. Grapenut is so fascinating and I really enjoyed learning all about his loony behaviors, What a hoot he is! Spectacular photography too. A fabulous book!"

Esther D., Londonderry, N.H.
Dear Mr. Rockwood,
My husband and I stopped at RiverRun Bookstore in Portsmouth, NH this summer on our way back from a vacation in Ogunquit, ME. While browsing the store, I came across your book, "Advenutures With Grapenut". I read it cover to cover and promptly purchased it. It is a charming book with beautiful photos. I've learned so much about loons, and I applaud what you've done for wildlife education!
I would like to buy a copy of Adventures With Grapenut as a gift for a friend of mine, Karen. Karen is a third grade teacher at my school and she is a devoted environmentalist and lover of wildlife. I know she will enjoy your book and she will want to share it with her students. Many thanks! And congradulations on a wonderful book. It is truly special!
Sharon B.
Newtown, PA. November 5, 2011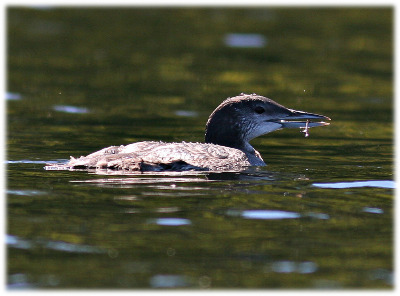 Is Grapenut too adventurous for his own good?
Adventures With Grapenut can be purchased at
The Loon Center, Moultonborough, N.H.
NH Audubon Centers,
Gibson's Bookstore, Concord, NH
Riverun Bookstore in Portsmouth, N.H.
Toadstools Bookshop in Peterborough, N.H.
Morgan Hill Bookstore in New London, N.H.
The Galley Hatch Restaurant Gift Shop, Hampton, N.H.
A portion of proceeds from sales of this book will be donated to NH Audubon Society and the Loon Preservation Commitee.

To learn more about " Adventures With Grapenut" and John Rockwood's volunteer profile from the Loon Preservation Committee - click on:
http://www.loon.org/assets/pdf/47551_SUMMER4c.pdf
see pages 10,11